Choctaw Beach is located in Northwest Florida, in between Fort Walton Beach and Navarre. We are lucky enough to have two Air Force Bases on either side of us: Hurlburt Field and Eglin Air Force Base. We are honored to have the Military as a neighbor and support them as much as possible.
The city of Choctaw Beach is noted as one of the first areas settled in this part of Northwest Florida. The first settler of Choctaw Beach came in 1842 when Jesse Rogers and his family drove a large cattle herd from Louisiana to the shores of Santa Rosa Sound and settled here.
Choctaw Beach Insurance Provider
Harris insurance has been providing business insurance, home insurance, auto insurance, and life insurance in Choctaw Beach Florida for 52 years. We are a local, family-owned, independent insurance firm in business since 1964. Our goal as an insurance provider is to protect our clients from potential financial loss while providing the best value from the insurance marketplace.
Get started protecting your family and business today. Turn to our company for business, home, auto, and life insurance in Choctaw Beach, FL.
Local and Experienced Choctaw Beach Insurance Broker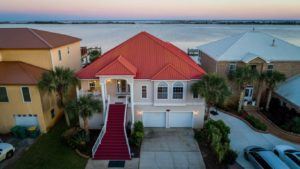 There's no need to turn to one of the big, heavily marketed insurance companies. You can find more affordable and personalized services by working with an insurance broker from Harris Insurance Services.
With our years of experience, we can help you find the right insurance plan for your family or business. We've worked in the area since 1964, making us the oldest personal insurance brokerage in the Choctaw Beach area. With access to more than 150 different insurance companies, we can help you find the exact plan to match your coverage preferences and your budget.
Ask us for assistance finding the right life insurance, home insurance, or auto insurance—or even all three. We can also connect you with a quality workers' compensation plan to protect your employees.
Auto insurance in Choctaw Beach, FL

Auto insurance in Choctaw Beach, FL is vital. The law requires that you have it. More importantly, it protects you financially when worst-case scenarios occur. Finding the right coverage for your vehicle provides you with the peace of mind of knowing you're protected, and securing coverage through Harris Insurance means you secured the best value for your money. That is the difference of leveraging the resources of an Agent that can shop the insurance marketplace for you
If you want quick access to affordable coverage, you'll find it at Harris Insurance Services.
We have been finding the best value for our clients since 1964, which is how we have become the largest and most experienced personal insurance broker in the area. Our Agents know the insurance market and can find the best plan for your needs. Whether you drive a vehicle for commercial or personal use, we can help.
Submit a Request and Receive a Quote
When you provide us with all of the necessary information, we work efficiently to provide a quote for the best deal. Keep in mind that the following factors will influence your rate for car insurance in Choctaw Beach, FL:
Credit score
Marital status
Vehicle type
Driving record
Miles driven
Because these factors all play a role, we need as much information as possible to supply an accurate quote and to ensure you are getting all the discounts that are available to you. Generally speaking, the more information you provide us, the lower the rate we can secure for you. If you also request quotes for multiple policies, like property, boats, RVs, and umbrellas, even more, discounts come into play.
Many companies offer generous discounts for bundling multiple policies that many consumers never see or find out about. We are happy to take the time to quote all your insurance needs together to show you how much bundling your policies with one Agent can save you, not to mention how much easier it is to manage.
We write insurance all over Florida. And, most policies can be secured right over the phone. Our office is in Ft. Walton Beach, FL.
If you have questions or would like more information about our services, please get in touch. You can always send a request via this form . If you'd like to speak directly with a licensed Florida Agent, please call us at 850-244-2112. Either way, we'll get back to you quickly
Contact Us
We'd love to connect you with an accurate quote. To make that possible, please answer all questions. We will always hold all submitted information confidential and use it only for quote purposes. We will never sell or share your information. Whether requesting a quote or a detailed multi-lined proposal, you are in no way obligated to purchase any insurance plan or product. Likewise, the quote does not represent an agreement to provide coverage; you must secure a policy for that.