It's summer in Florida, do you know how your roof is doing?
That may be a strange question but sometimes what you don't know can hurt you. When shopping for a homeowners policy, you will be asked questions about what type of roof you have, its material, and age. Before you get up to check your roof, let's go over the six types of roofs you will see all over Florida and their features.
1. Shingled Roof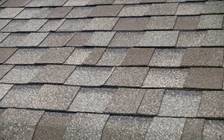 This roof type is one of the most popular styles in the United States. With its easy accessibility, any homeowner will be happy with it. Shingles are highly affordable, attractive, fit well with all different types of architecture, and are fairly easy to maintain. Some downsides to shingle tiles are that their lightweight nature won't stand up to intense storm winds. It is common to see shingles blow off during a hurricane. They can also degrade, warp, or crack faster in hot climates. Often made out of asphalt or fiberglass, shingles are easier to find than other roofing materials if you need to maintain or repair them after a strong storm or over time.
2. Clay Tiles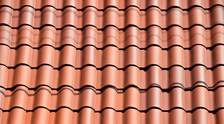 This beautiful and earthy roof type can be found around South Florida and other coastal communities. Clay tiles are a staple around the world and bring a special Spanish contemporary feeling to a home. While clay tiles can be pricey, a well-maintained roof can last up to fifty years. The upsides are that these tiles never rot, are highly resistant to damage from insects, and resist salt spray from ocean water. Their resiliency to elements such as fire, wind, and water are also great. One critique is that these tiles can crack or break easily and may increase the need for occasional repairs. Physical damage to the roof's edges are common due to trees brushing up against them as well.
3. Concrete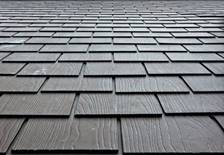 Modern and very durable, concrete can have a similar lifespan to clay tiles, when properly maintained. The slightly higher price for concrete is pretty cost effective as they provide good value and look attractive. It is also resistant to fire, heavy rains. One thing that is interesting is that concrete tiles are coated in plastic or enamel, which can chip or degrade over the source of its life. Another point to consider is that concrete roofs handle well against strong hurricane force winds. Since this material is heavy and does not absorb water, it is a great alternative to clay tiles. You can often find this roof type all over the miles of Florida coast.
4. Metal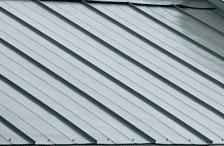 Known for low maintenance and high customization, metal roofing is a unique alternative to traditional roofing materials. The main features to a metal roof is its extreme durability to bugs and all elements. It is the strongest roof during any major storm as it can withstand winds up to 160mph. Another bonus is that the metal reflects sunlight instead of taking it in like shingles or tiles, giving your home additional insulation from the top down. A few drawbacks are that metal roofs can be expensive if you get with a designer roofing company. Depending on the amount of physical damage to the roof in the form of dents from debris or even hail, it may need a full replacement. Believe it or not, hail has happened in Florida before and is not too uncommon.
5. Wood Shakes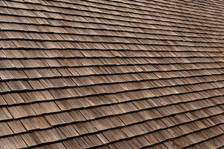 Found in many inland communities and throughout the eastern seaboard, wood shakes are similar to shingles. They can be attractive and provide a nice natural look but must be sealed in order to provide additional protection from bugs and the elements. This type of roof can last upwards of forty years, but must be maintained well over the course of its life. This can be costly, making it more expensive than shingles. Many of these roofing materials are fire resistant, except wood shakes, for obvious reasons. Even though this roof looks great and brings a natural look to a home, it will not withstand hurricane force winds. Many individual pieces may be blown off and will need immediate replacement afterward. In the right light, they give off an unmistakable glow that is very distinct in appearance.
6. Slate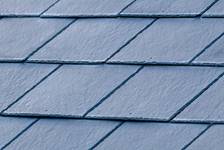 Slate roofs may not be the most common in Florida, but they are very nice, hand customizable, and environmentally friendly. Due to this roof being made out of rock, they can be extremely heavy. It is wise to check and see if your home can handle one. This type of roof can be similar to clay tiles as they are highly fire resistant but can crack under heavy weight or pressure. Another criticism is that in the event a repair takes place, it may be extremely hard to find the same matching color of the original slate tiles, making it a costly headache.
Florida's extreme weather is able to significantly shorten the lifespan of a roof without your knowledge. A ton of Florida residents are told that their roof can last well and beyond twenty years, but that may not be the case. While different shingles may advertise a warranty of 20 or even 50 years, most insurance companies will not recognize a shingle or product warranty and will still require replacement and updates subject to completely different schedules. (See example schedule below). While clay tiles and concrete have an advertised lifespan of fifty years, they usually undergo routine maintenance to back that claim. On top of that, all these types of roofs are exposed to extreme heat, humidity, rain, wind, and occasionally a hurricane which can turn that twenty year estimated lifespan to fifteen, or even ten years if heavily damaged.
Not every insurance company abides by the same criteria and their rules may change at any time, but for reference the more commonly recognized roof type lifespan is listed below:
Example of typical Florida insurance roof replacement schedule
Wood – Individually underwritten
Three tab basic shingle up to 15 years
Architectural shingle 15-20 years
Tile, Clay and Concrete – Up to 40 years
Metal – Up to 40 years
Flat roofs – 10 years or less
Every material has their own pros and cons but having a general understanding of what your roof is made out of and how it handles the elements will also give you the upper hand when looking for your next homeowners policy. You will also know how to address and handle any roofing issues that can creep up over time.
Just a reminder to have your roof's type, age and installation information handy when speaking to your Florida licensed insurance agent and realtor. If you are going to obtain a homeowners insurance policy, the age of the home may require you to get a four-point inspection. This inspection and accompanied form will answer any questions about the roof's age, material it was built with, and possible problem areas that may need some repairing.
Our agency is able to cover any roof that you decide to choose for a replacement. We shop for all of your homeowners insurance needs. Please contact us at 850.244.2111 for additional information.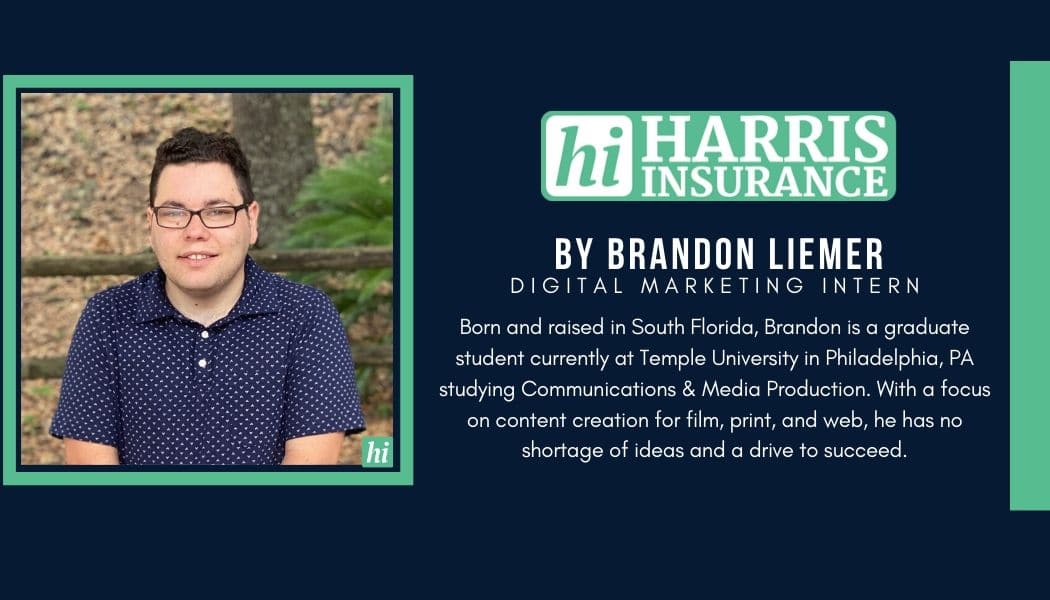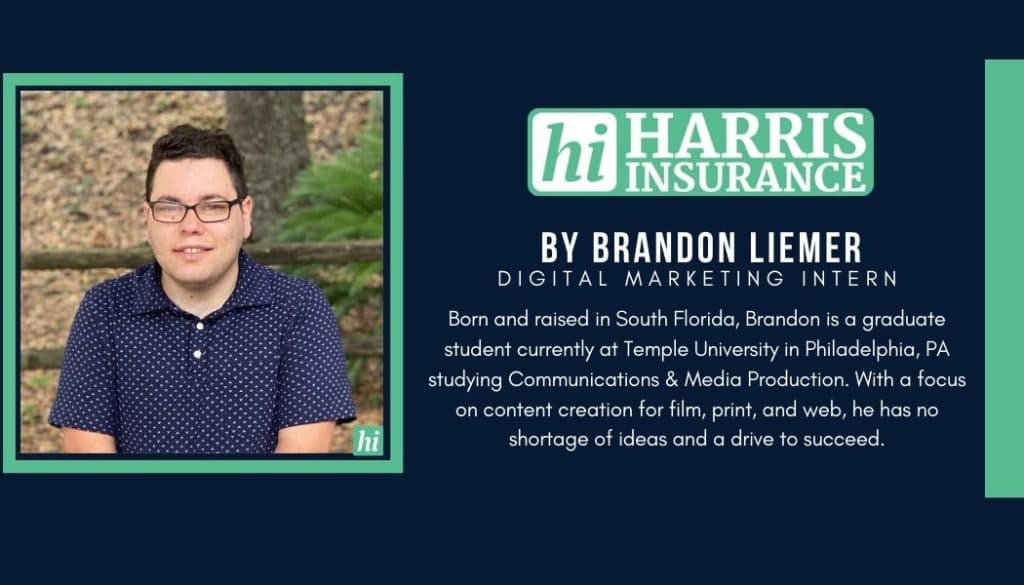 LEGAL DISCLAIMER
Views expressed here do not constitute legal advice. The information contained herein is for general guidance of matter only and not for the purpose of providing legal advice. Discussion of insurance policy language is descriptive only. Every policy has different policy language. Coverage afforded under any insurance policy issued is subject to individual policy terms and conditions. Please refer to your policy for the actual language.