Whether you're a seasoned Floridian or new to The Sunshine State, you've heard that Hurricane Season runs from June 1st through November 30th each year. Since 1965, Harris Insurance is here for you before, during, and after the storms. No matter where you are in your preparations, please use our resources below and always stay safe.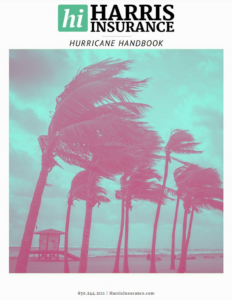 Download our 2023 Hurricane Handbook:
Are You Prepared for Hurricane Season?
We've developed The 2023 Harris Hurricane Handbook to tell you everything you need to think about in order to prepare for any level of storm that might turn your way. In this FREE Guide, you will find:
Hurricane Preparation Checklist
How to build an Emergency Kit
Vital Insurance Information in regards to Hurricane Damage
Tips for Evacuating or Staying in your Home
What to do after the Storm
And more!
This guide is AWESOME!!! Kuddos to you guys for creating such a valuable guide!
– Hannah F.
I wanted to thank you for sending the information about the potential for storms and how to be ready! We only moved here a few months ago from the midwest and need all the guidance we can get about local weather and readiness.
– Angie C.
This guide was well made. It helped me answer all my questions about the severity of storms from category 3 and up, and how to handle them.
- Johnathan T.
More companies should make these handbooks! It is so important for people to get prepared!
-Stephanie S.
The book is nice. I found it very thoughtful and will use it for this Hurricane Season.
-Allen D.
I was surprised by the quality of this handbook. My family and I will use this if another storm comes to Florida.
-Eric C.
This book will save your life. Best part is that it's free!
-Thomas W.
Download your FREE Hurricane Resources Guide
Other Helpful Resources
Request a quote or review from one of our licensed Agents:
Harris Insurance is a licensed insurance brokerage firm authorized to serve throughout the State of Florida. We are a full-service insurance provider since 1965. We represent more than 150 insurance companies in order to bring the most reputable, "A" rated, insurance companies under one roof to provide comprehensive solutions for your insurance needs.
Request your quote for Florida Auto, Home, Flood, Life, or Business Insurance at the link below.
Make a Payment:
To make a payment on your insurance policy 24/7, please visit our Florida Insurance Company Payment Department Directory and see the multiple ways that they accept payments.
Some of our companies accept payments online. Use the link in the Online Payments column to go to your company's Online Payment Center. If you would like to send a check or money order, use the address displayed below but please be aware of mailing delays and deadlines.
File a Claim:
If you have sustained damage the first thing you should do is report your claim directly to your insurance company. Please use this Florida Insurance Company Claim Directory  to report your claim via phone, web, or email. We are also available to assist you Monday through Friday from 8:30 to 5:30 CST.
No matter what the storm projections look like, we hope that you and your family and your businesses fare well. We can't control the weather, but we can assist in the preparations you can make to protect the things that matter most.