Flooding is the most common and costliest natural disaster in the United States.
In fact, it is the #1 natural disaster. Only a few inches of flooding can cost thousands of dollars to repair. Risk levels may vary by zone, but you're always at risk of flood damage.
If you live where it rains, it can flood.
98% of US counties have experienced a flooding event. From 2014-2018, all 50 states have experienced losses due to flood or flash flood.
The average cost of flood insurance is $53 a month. If you live in a low-to-moderate risk area, your premium could be even lower!
National Flood Insurance Protection
Coverage
Coverage
Owner occupied
Building
Contents
$371
$100k
$40k
$389
125k
50k
$415
150k
60k
$453
200k
80k
$480
250k
100k
Times Are Changing
Historically, the National Flood Insurance Program (NFIP) was the only source for flood insurance. Recently, more private flood products have become available. This is good for you as a homeowner as the NFIP has limitations including a $250,000 replacement cost, no loss of use coverage, limited other structure coverage, 30 day waiting periods, and costly elevation certificate requirements. The new private flood markets are very competitive and they want your business!
Here's how just ONE private policy compares to the National Flood Insurance Program: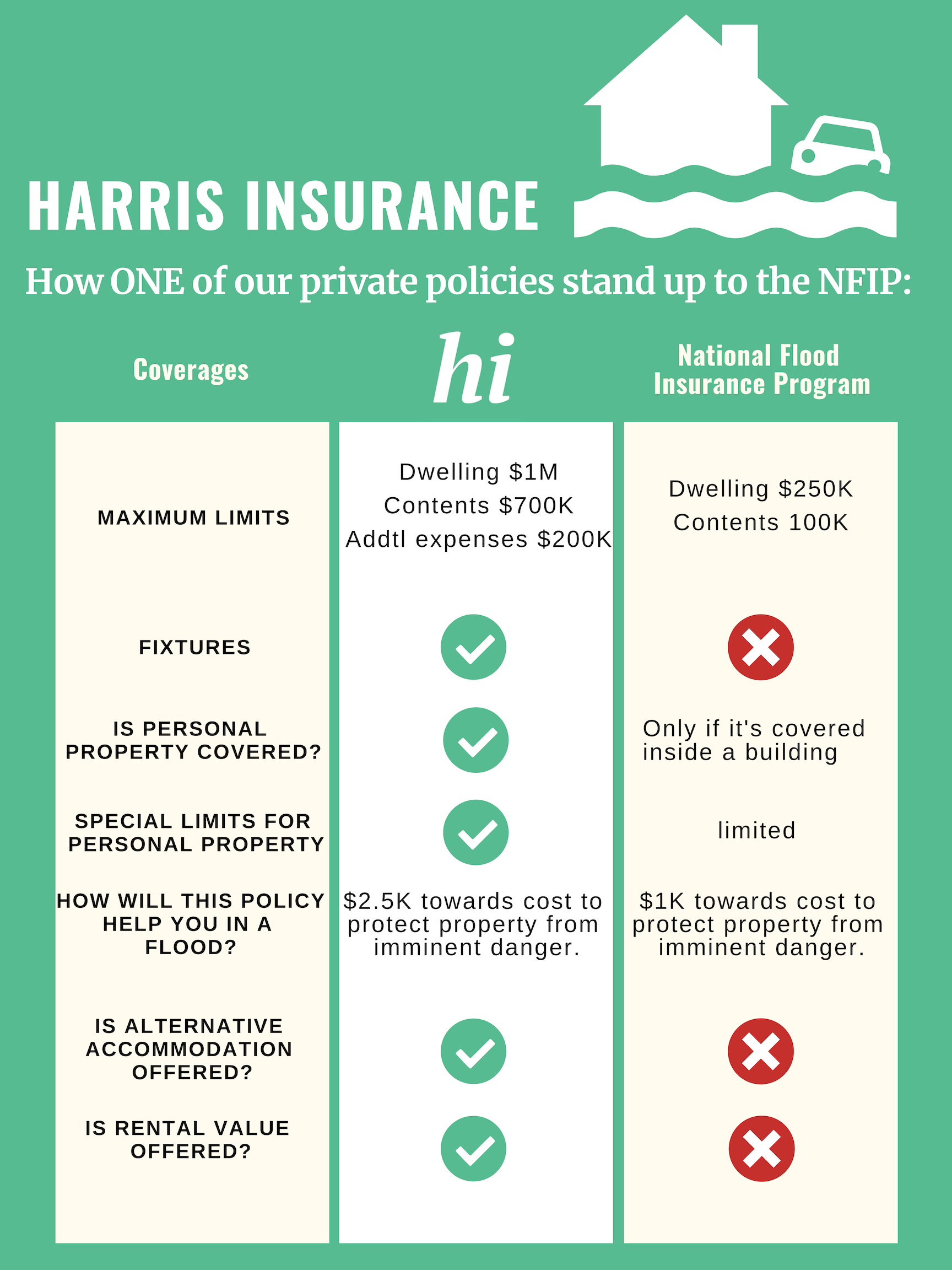 Remember, we have access to over TEN private markets with more companies coming on board continuously!
You also have the option to add a Flood Endorsement to your Homeowner Policy, depending on who your Homeowners is with.
So what does all this mean for you?
Whether you already have flood insurance or not, now is a good time to look at your options and seriously consider adding a Flood Policy to your insurance portfolio.
Call us today so we can discuss your options with Flood Insurance and how it can help you protect one of your biggest assets—your home.
Flood damage can be devastating and most flood losses are NOT covered by your standard home or business property insurance policy. Whether you are located in a flood zone that requires you to carry flood insurance or if you are located in a zone where coverage is optional, virtually every property in Florida should carry flood insurance to protect against the damage caused by rising bodies of water.  
Different flood policy fees apply to investment property than to primary residences so additional documentation demonstrating a property is your primary residence is required to qualify for the lower fees.
If your property is located in a Special Flood Hazard Area (SFHA), an elevation certificate issued by a licensed property surveyor is required to provide an accurate flood insurance quotation. Flood is specifically rated based on your building elevations in relation to neighboring properties.
An elevation certificate is a document prepared by a qualified engineer or surveyor that provides information about the elevation of the building in relation to the area's base flood elevation as well as information about the building and the location on the most current flood maps. Depending on the zone that your property is in and what type of flood insurance you are seeking, you may be required to obtain an elevation certificate. It's almost always a benefit to obtain an elevation certificate as it allows for a more accurate rating process. Some private options do not require elevation certificates if the property is in a preferred zone, so check with your Agent to see what they advise. Remember, You have options when it comes to flood insurance!
If your property is at risk for flooding, you need to know. You also don't want to pay more than you have to for flood insurance. A Flood Elevation Certificate assesses your property's flood risk and, depending on the findings, enables you to pay a lower premium for flood insurance.
Flood damage can be devastating and most flood losses are NOT covered by your standard home or business property insurance policy. Whether you are located in a flood zone that There are a few areas designated as Coastal Barrier Resource Areas (CBRA) within Destin, Santa Rosa Beach, Mexico Beach and Port St. Joe. Properties located in these areas are ineligible for the National Flood Insurance Program (NFIP) however flood insurance can be secured through our other markets such as Lloyds of London syndicates.
There are many factors to consider regarding flood protection. We are always happy to research and provide flood zone determinations for your property. Please be sure to ask one of our Florida licensed flood experts about this valuable coverage.
As the trusted choice for Florida flood protection, we offer:
Business Property coverage
Business Contents coverage
Residential Property coverage
Residential Contents coverage
Optional excess flood insurance for coverage limits above the FEMA federally subsidized program