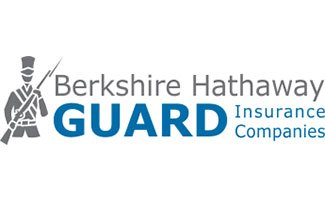 Berkshire Hathaway GUARD Insurance Companies are rated A+ Superior by A.M. Best and ultimately owned by Berkshire Hathaway, Inc. – one of the financially strongest organizations in the world. A dedicated insurance provider for almost four decades, Berkshire Hathaway GUARD understands how to protect our clients' interests.
Powered by a carefully selected network of independent agents and brokers from all over the country, we offer a full range of insurance products and services through our subsidiary companies, each featuring flexible policy terms and convenient payment options. 
Right now, hundreds of thousands of policyholders are counting on us. Judging by the high number who return to us each year, it's safe to say we're doing a great job!
REPORT NEW CLAIMS
1-888-NEW-CLMS (1-888-639-2567)
Helpful Information:
Policy number

A description of how, when, and where the incident occurred

Names, addresses, phone numbers of injured/involved parties or witnesses

The insured driver's name, address, phone number (Commercial Auto)

The employer's tax ID number, the injured/ill employee's SSN and personnel file and any accident reports (Workers' Compensation)

Legal correspondence (Liability claims)
Report claims online by going to www.guard.com/claims/ 
PAY ONLINE
Login to the Policyholder Service Center (PSC) to make a credit card payment, transfer funds from your bank, set up recurring payments, and view your billing history.
Use Express Pay to make a payment, no login required.
PAY BY DIRECT DRAFT
Set up recurring automatic payments.
Direct Draft Program Authorization Form
PAY BY PHONE
Call 1-800-673-2465. You can make a payment using your credit card or bank account.
PAY BY MAIL
Down payments for all lines and initial payments for new escrow-billed Homeowners policies:
Berkshire Hathaway GUARD
P.O. Box AH
Wilkes-Barre, PA 18703-0020
Regular installments:
Berkshire Hathaway GUARD
P.O. Box 785570
Philadelphia, PA 19178-5570
Policy numbers with an R2 prefix:
Berkshire Hathaway GUARD
P.O. Box 785410
Philadelphia, PA 19178-5410
Harris Insurance is proud to offer the following through Berkshire Hathaway Guard Insurance Companies:
Personal Insurance Lines
Homeowners

Condo/Unit Owners

Landlords

Renters

Personal Umbrella
Commercial Insurance Lines
Businessowner's Policy

Commercial Auto

Commercial Package

Commercial Property

Commercial Umbrella

General Liability

Professional Liability

Workers' Compensation
Specialty Programs
Accountants

Attorneys

Auto Dealer Associations

Bowling Centers

Chambers of Commerce

Hotel Franchises

Municipalities

Pharmacy Associations

Restaurant Chains

Retail Associations

Tow Trucks
Excess & Surplus
Please contact Harris Insurance if you are interested in learning more about any of Berkshire Hathaway Guard Insurance Companies products. We would be happy to assist you.