Hurricane Michael barreled through Florida's Panhandle as a category four Atlantic hurricane on October 10th, 2018. It was the strongest storm (measurable by maximum wind speed) to hit the United States since Hurricane Andrew (1992) and the fourth-strongest (measurable by pressure) behind The Labor Day Storm of 1935, Camille in 1969, and The Typhoon Yutu in 2018. Just over 60 miles away from our home office in Downtown Fort Walton Beach, our neighbors to the East in Panama City Beach, Mexico Beach, Tyndall Air Force Base, Marianna, Port St. Joe, and Apalachicola sustained catastrophic damage.
Damage to the Panhandle, according to PBS, is estimated to be about $8 billion (and climbing!) in insured losses including wind and storm surge damage to residential, commercial and industrial properties and automobiles. This figure does not include losses covered by the National Flood Insurance Program.
Leading up to Hurricane Michael, I think we all began to "take it seriously" a little too late. Personally, my family and I decided to stay in our home in Destin and the feeling I had in the eleventh hour is something that I have vowed to never forget and will be evacuating my family in the future for storms of this level.  I think that there are countless lessons to be learned from this storm in particular. This post is my first attempt at trying to catalog my thoughts in preparation for next year's Hurricane Season as well as providing a resource of what we all have endured while this storm is still "current."
On October 8th, Michael officially became a Hurricane and we posted some "first steps" on Facebook: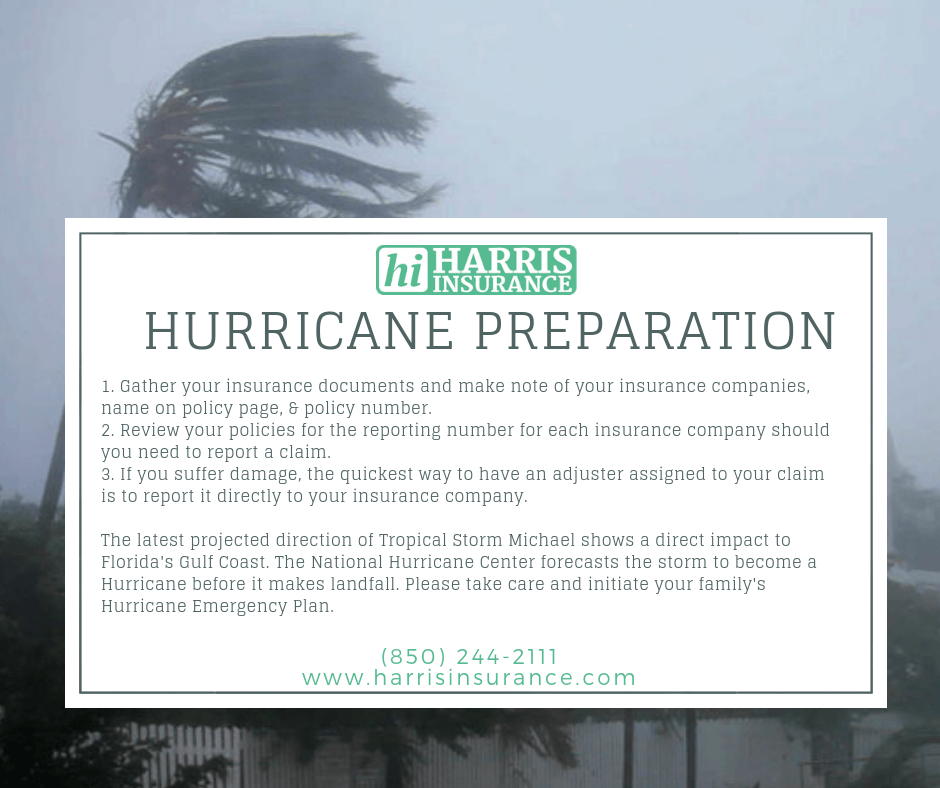 The next day, our office closed to make preparations at our homes and for the safety of our staff. We posted more Hurricane Procedures: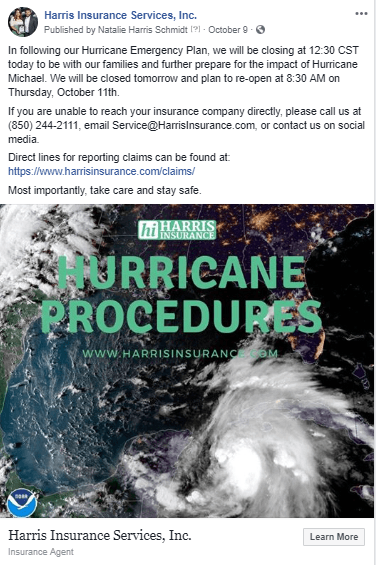 It was hard to know exactly what we were in for but like I said, that gut wrenching feeling on the morning of October 10th is something I will never forget. It was hard to even feel fortunate when my personal property fared perfectly well during the storm knowing that citizens of the very next major city to the East lost everything they had. I found little comfort in the support and effort that was born the morning of October 11th. A simple request on Facebook asking for people to bring in their unused hurricane supplies to our office quickly turned into a community-wide event that was inspiring, to say the least!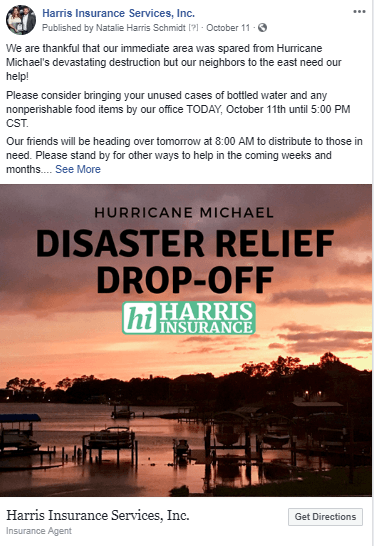 In only 8 hours, our office was proud to have collected and sent thousands of dollars' worth of basic necessities to Mexico Beach. After our office closed for the day, we loaded up this temporarily trailer and our friends rented a Uhaul to carry over the bottled water, nonperishable food, diapers, and baby supplies.
It took them over 24 hours to go 88 miles but the supplies were welcomed with wide open arms. We decided we would continue to be a drop-off point until more established programs could initiate their plans.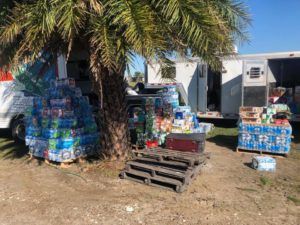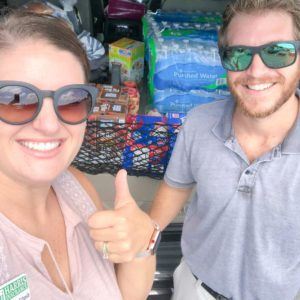 It was the spirit around town in the days following the storm that I want to take away from Hurricane Michael. Complete strangers drove to our office for the first time in their lives to thank us and to bring what they could to help others. Relief efforts were everywhere, from drop-off points to Facebook posts connecting family members that haven't been heard from since the storm. There are so many logistical things that we need to get in a row before The 2019 Hurricane Season. There are communities that need to completely rebuild. But in the meantime, let's hold on to the good that showed itself after this storm. People showed up for one another and that's all that really matters.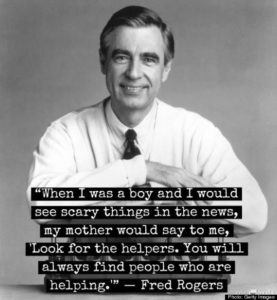 Stay tuned for more hurricane information as this is the never-ending cycle of living in paradise. We thank you for any efforts you helped contribute after Michael. Join us in remembering how good it feels to help and be #PanhandleStrong.