2020 has brought us a lot of things. First we have coronavirus, then hurricane season, and remember Tropical Storm Cristobal? What else can possibly happen in 2020, the year of absolute uncertainty? That's right, we are now looking at a Saharan dust plume.
Before you think of any possibility of danger, rest assured that there is not much to worry about. Perhaps anyone with a respiratory condition will need to take additional precautions, but much of the dust will help fertilize the land and change up the scenery.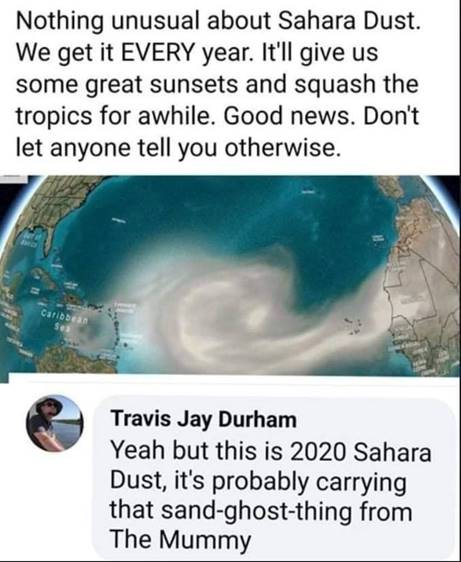 Joking aside, many countries in the Caribbean have deemed the thicker dust as a nuisance that reduces general visibility but thankfully, it passes quickly and leaves some beautiful sunrises and sunsets. Florida will experience a new natural occurrence as the system has been moving toward the Panhandle and will be here by the end of this week. The good news is that the dust will not harm our homes and may actually help us through the remaining hurricane season. Surprisingly enough, homeowners policies do protect us against odd weather-related perils such as this.
While this is an interesting phenomenon that may happen more often than we think, it is interesting to see how this dust plume system travels.
The wind patterns blow through The Gulf and hovers over the state. This dust plume's movement is shockingly similar to a storm system. We Floridians have seen it all from depressions, tropical storms, and hurricanes but this dust system can actually save us from another potential threat this Hurricane Season. As the dust system moves across the Atlantic and Gulf of Mexico, it acts as a wind shear and is able to tear apart any existing weather patterns that combine to make a storm. That is great for us as we continue to make it through this season unscathed.
During this reprieve from any storms, it is wise to look into which policies you have and reevaluate them. You can never be too sure what type of coverage you may or may not have just in case a named storm blows in a few weeks after this dust plume. We hope this dust will act as a hurricane repellent but there is no way for us to be sure that the rest of the season will be calm.
Always remember that when a named storm approaches the state, insurance companies can shut down until it's deemed clear. In the case of dust plumes, meteorological experts have determined that there is no immediate threat which is the kind of news we want to see more of in 2020. If you need to discuss wind storm protection in your policy, make sure to call your local Harris Insurance agent. If the dust is a concern or you need to look for additional coverage or have questions as to how your current policy will respond to flooding or wind, our agents are able to assist! Call us at 850.244.2111 or email service@harrisinsurance.com.
Stay safe for the remainder of 2020!